While this is probably not news if you were affected, earlier today Amazon had a bit of a problem.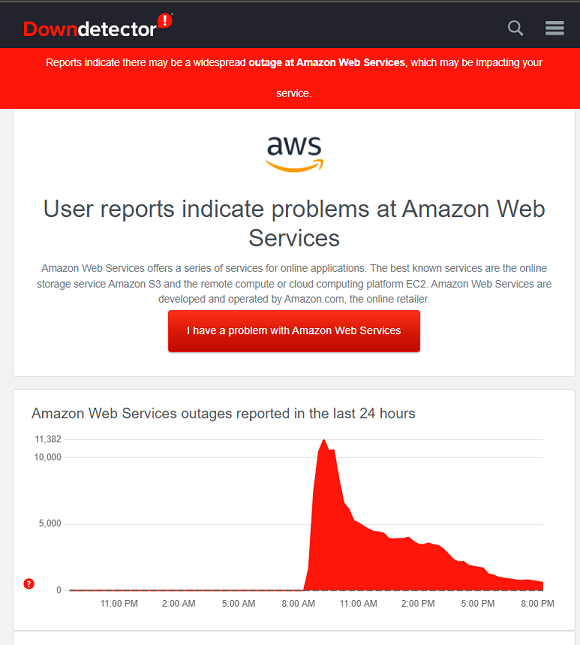 Just in time for the Christmas rush, Amazon warehouse workers had a bit of a holiday. Workers reported in social media that warehouses are at a standstill, leaving workers without much to do besides singing karaoke.
It took down parts of Disney Plus, Robinhood, Barclays, and Slack.
Down Detector reported issues with Ring, Prime Music, Alexa and Chime.
Ticketmaster, Google, McDonalds, Venmo, Cash App and My Social Security also showed outages starting around 11 AM Eastern.
Amazon confirmed that they had a problem – what they call a "service event" – in US-East and they are working to resolve it.
There were reports of Ring alarm systems that could not be turned off because they could not connect to their servers.
Down Detector showed 11,000 reports of outages at the peak and of course, that is only people who reported the problem.
Amazon drivers said that they could not make deliveries because their systems were not working. Credit: MSN
As of 4:35 Pacific time (about 7 hours after the start), Amazon said in their status log that they are working towards recovery of any impaired services. Credit: Amazon
This post is not about beating up Amazon. Stuff happens as they say.
What it is about is the lack of preparedness.
Yesterday I wrote about a DNS outage that took a company down for days.
Today it is Amazon.
One region (Amazon has dozens) and companies like McDonalds, Barclays Bank, Slack and the Social Security Administration go dark.
Maybe that is okay.
I doubt that was the plan.
Why would you create an alarm system that could not be deactivated if it could not connect to its servers?
Without preparing for a disaster, you will have a disaster when it happens. Not if. When.
If that is okay, don't worry about it.
If not, be prepared.
Your choice.